BY HAROLD POLLACK
Everything you need to know about buying a home — on one index card.
A home is often the biggest financial investment you'll make in your lifetime. In fact, a recent Zillow analysis reports that the typical American homeowner has 40% of their wealth tied up in their home.
Several years ago, I wrote a complete guide to financial planning on one index card, which went viral and later became a book: "The Index Card: Why Personal Finance Doesn't Have to Be Complicated" (co-written with Helaine Olen).
Now, following up on my original index card, I've written a guide on buying a house. Below is the housing index card — a handy resource to print and take with you as you look at houses or think about buying one — plus some additional advice as you contemplate making the big decision.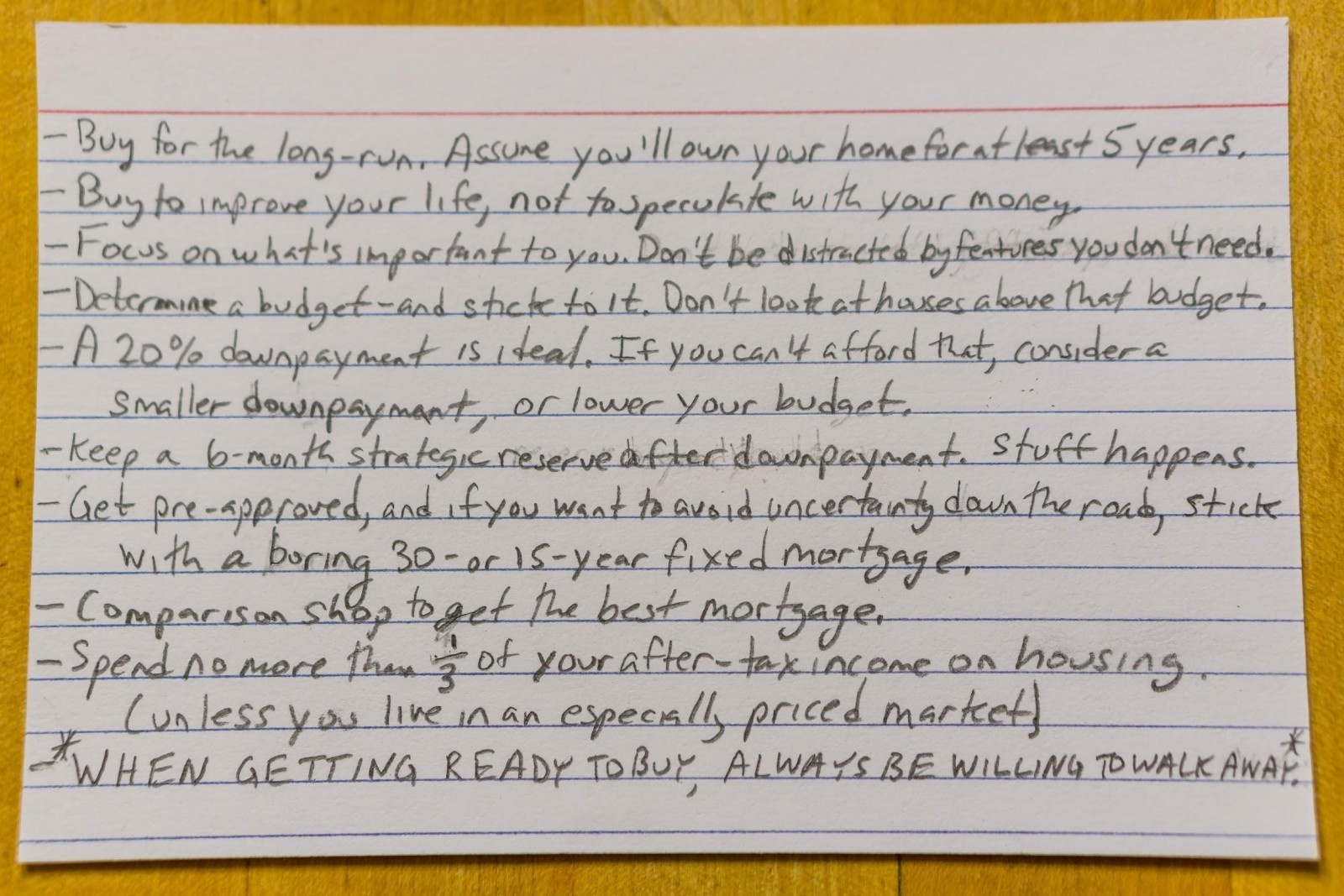 1. Buy for the long run
A home is a significant investment, not to mention a linchpin of stability. According to the Zillow Group Consumer Housing Trends Report 2017, the majority of Americans who sold their homes last year had lived in their home for at least a decade before selling.
Some are even staying for the long haul. Almost half (46%) of all homeowners are like me — living in the first home we ever purchased. In short: Buy a home you want to live in for at least five years — one equipped (or ready to be equipped) with the features and space you need, both now and in the future.
2. Buy to improve your life, not speculate with money
Your home is more than a financial investment; it's where you sleep, eat, host friends, raise your children — it's where your life happens.
The housing market is too unpredictable to buy a (primary) home purely because you think it will net a big short-term financial return. You will most likely be living in this home for several years, regardless of how it appreciates, so your first priority should be finding a home that will meet your needs and help you build the life you want.
3. Focus on what's important to you
Today's housing market is short on inventory, with 10% fewer homes on the market in November 2017 than November 2016.
So, focus on finding a home you can afford that meets your needs — but don't get distracted by shiny features that might break your budget. Nice-to-have features often drive up the price tag for things you don't particularly value once the initial enjoyment wears off.
Make a list of your basic needs, both for your desired home and for your desired neighborhood. Stick to finding a home that meets these needs, without buying extra stuff that adds up.
4. Set a budget and stick to it
It's important to set a budget early — ideally before you even start looking at homes. In today's market, especially in the more competitive markets, it's incredibly easy to go over budget — 29% of buyers who purchased last year did.
The most common culprit? Location. Zillow's data indicates that urban buyers are significantly more likely to go over budget (42%) than suburban (25%) or rural (20%) buyers.
There's nothing inherently wrong with that. Local schools matter, and psychologists tell us that a short commute improves your life. But be realistic about your local market and about yourself. Know what you're willing to compromise on — be it less square footage, home repairs or a different neighborhood.
5. Aim for a 20% down payment
If you can afford it, a 20% down payment is ideal for three reasons:
Buyers who don't put a full 20% down pay a premium, most commonly in the form of private mortgage insurance (PMI). This is less financially punishing than it used to be, given today's low mortgage rates. A monthly mortgage payment(with PMI) may be lower than a monthly rental payment in many markets — but still.
Buyers who put more down upfront typically make fewer offers and buy faster than those who put less down. Zillow research found that buyers with higher down payments make 1.9 offers on average, compared to 2.4 offers for buyers with lower down payments (after controlling for market conditions).
A higher down payment reduces your financial risk. You don't want to owe more money than your house is worth if local markets dip when you need to sell.
6. Keep a six-month strategic reserve
While a down payment is a significant expense, it's also important to build up a strategic reserve and keep it separate from your normal bank account.
This reserve should cover six months of living expenses in case you get sick, face an unexpected expense or lose your job. A strategic reserve will not only save you from financial hardship in an emergency but also provide peace of mind.
When we accumulated a strategic reserve, my wife and I finally felt ready to build for our future. Without it, we were living from paycheck to paycheck, anxiously managing our cash flow rather than saving or budgeting.
7. Get pre-approved, and stick with a fixed-rate mortgage
The pre-approval process requires organizing all your paperwork; documenting your income, debt and credit; and understanding all the loan options available to you. It's a bit of a pain, but it saves time later. Getting pre-approved also shows sellers that you're a reliable buyer with a strong financial footing. Most importantly, it helps you understand what you can afford.
There are a variety of mortgage types, and it's important to evaluate all of them to see which is best for your family and financial situation. Those boring 30- and 15-year mortgages offer big advantages.
The biggest is locking in your mortgage rate. In short: A 30-year fixed mortgage has a specific fixed rate of interest that doesn't change for 30 years. A 15-year fixed mortgage does the same.
These typically have lower rates but higher monthly payments, since you must pay it off in half the time. Conventional fixed-rate mortgages help you manage your household budgeting because you know precisely how much you'll be paying every month for many years. They're simple to understand, and current rates are low.
One final advantage is that they don't tempt you with a low initial payment to buy more house than you can afford.
8. Comparison shop to get the best mortgage
Though a home is the biggest purchase many of us will ever make, most home buyers don't shop around for a mortgage (52% consider only a single lender).
I certainly didn't. This did save me some annoying calls and hassle, but it cost me $40 or $50 every month, for years. The difference of half a percentage point in your mortgage rate can add up to thousands of dollars over the lifetime of the loan. It's important to evaluate all the available options to make sure you're going with the lender who meets your needs — not just the first one you contact.
The three most important factors are that the lender offers a loan program that caters to their specific needs (76%), has the most competitive rates (74%) and has a history of closing on time (63%).
9. Spend no more than a third of your after-tax income
It's better to regret spending too little on your home than spending too much. One-third of your after-tax income is a manageable amount. This isn't always possible if you live in a place like San Francisco or New York, but it's still a good yardstick for where to be.
10. Be willing to walk away
Buying a home is a time-consuming, stressful but ultimately rewarding endeavor — if you end up closing on a home that meets your needs. But it's important to manage your expectations in case you don't immediately find a home you can afford with the features you need.
Always be prepared to walk away if the sellers don't accept your offer, the home doesn't pass a rigorous inspection or the timing isn't right. Hold fast to your list of must-haves, stick to what you can afford and don't overreach or settle.
It's no tragedy to miss out on any particular house. Remember that you're playing the long game. You want to be happy 10 years from now.